I promised you guys a journal about my time in NOLA so here it is. We flew out on Friday and got back home on Tuesday and both flights had a LOT of turbulence. I'm scared of flying so I was having a pretty miserable time when things started shaking. It was worth it though and the flight was only a little under 3 hours.
First of all, I just want to state what should be obvious and that is I was hammered practically the whole trip. There were two nights where I rarely even had to pay for drinks because they treat you right on your birthday down there. Apparently it's a thing where people in New Orleans will pin dollar bills to you if it's your birthday. Here is a little material if you want to learn about this unusual custom. Supposedly it's most prominent with black folks and women but I am neither of those and I made like $7.00 so that should tell you how friendly everyone was. A live band even played me a sweet rendition of the happy birthday song.
Bourbon Street was crazy! It was like Mardi Gras with wrestling fans. There were about 80,000 people in attendance for Wrestlemania so that should give you an idea of how crowded everything was. Normally I hate crowds but these were my people. You could yell out any random wrestling chant and almost everyone in the area around you would start chanting along with you. Rusev Day chants were probably my favorite. BTW, happy Rusev Day everyone!

One thing I wasn't really prepared for was the ability to just walk around with your drinks. You could leave one bar with your drink and just walk into another one. You can take your drink in pretty much any shop on Bourbon Street. I've experienced this in Vegas but was not expecting that here. I guess I should have figured it out being where Mardi Gras is held and all, but I'm from Utah. A restaurant here can't even open/pour an alcoholic drink unless it's hidden away out of the sight of any customers. They call it the Zion Curtain and it's just more dumb Mormon bullshit imposed on everyone. I shouldn't have to tell you it's very illegal to walk around with an open container of alcohol here in Utah. I felt like such a rebel the whole time I was down there double fisting beers at some points.
I think I made it back to the hotel around 5:00 AM and we got lost looking for our room. Once we found our room it seemed like a good idea to do some wrestling moves on the bed. My boi and I go WAY back and used to practice wrestling on the trampoline so what's the worst that can happen? We started off with a powerbomb and ended with the same powerbomb. It's a shame that boomerang clip doesn't show the outcome of that powerbomb. Turns out us 32 year old men cant powerbomb each other the way we did when we were 15 years old. Let's just say we took a pretty good spill and my friend got a big bump on his head. That's pretty much how we ended the first night.

Second day started off pretty interesting. We decided to walk around until we found a restaurant we wanted to eat at (The food down there is on another level!). We got a bit sidetracked on the way.
I paid $25 for a single drink that tasted like gross black licorice. It have to admit that it sure got me feeling good though. Not sure if I'd try it again, but I'm glad I tried it once.
We continued our quest to find food and happened to bump into a WWE wrestler who goes by Baron Corbin.
Baron Corbin plays a bad guy on TV but he was so chill and friendly! He took like 3 pictures with us with zero complaints. I guess my friend saw Brock Lesnar in the hotel lobby we were staying at but he's not really the type of guy you want to ask for a picture unless you just want to get rejected. Anyway, we finally found food and it was the best fried chicken I've ever had. The Cajun food in New Orleans has had me craving it ever since I came back home and there really isn't much of a way to get that authentic shit here. Might have to attempt a few recipes even though I'm a very novice cook.
We mostly visited shops and bars until it was time to go to our Saturday Wrestling event. We attended the Ring of Honor: Supercard of Honor and it was a blast!
Only the most hardcore wrestling fans would be at an event like this and it was so easy to just strike up a conversation with anyone there as long as you knew your wrestling. The best part for me was Kenny Omega vs Cody Rhodes. I'm a huge fan of both guys but especially Kenny Omega, who I personally think might be the best wrestler in the world. This was a fun way to celebrate my birthday. Here is a quick video I took from the ladder match I saw there.
It was still my birthday at this point and I can't think of a way I'd have rather spent it. It was made even better knowing that Wrestlemania was the next day.
Unfortunately, the next day I was not feeling so great. Too much alcohol and not enough sleep can do that to a person. My friend suggested I take a 5 Hour Energy so that I wouldn't be struggling at Wrestlemania so I decided to try it. It was a good reminder why I don't drink coffee or energy drinks and it made me feel super jittery and anxious. The next day I would have the worst headache of my life so yeah, I'm never taking one of those ever again. I managed to power through and the wrestling gods granted me a second wind once I finally got into the Superdome.
I've never been around so many people in my life! I took a few pics and videos of the event and I'm afraid they just don't do the experience of being in that crowd justice.
Literal tears of joy for Daniel Bryan's return!
I think the event was great aside from a few gripes I had. The main event was a letdown and I was really hoping Braun Strowman would have recruited a WWE legend to be his tag partner but instead we got 10 year old Nicholas picked from the crowd. The memes were good though so I can give it a pass.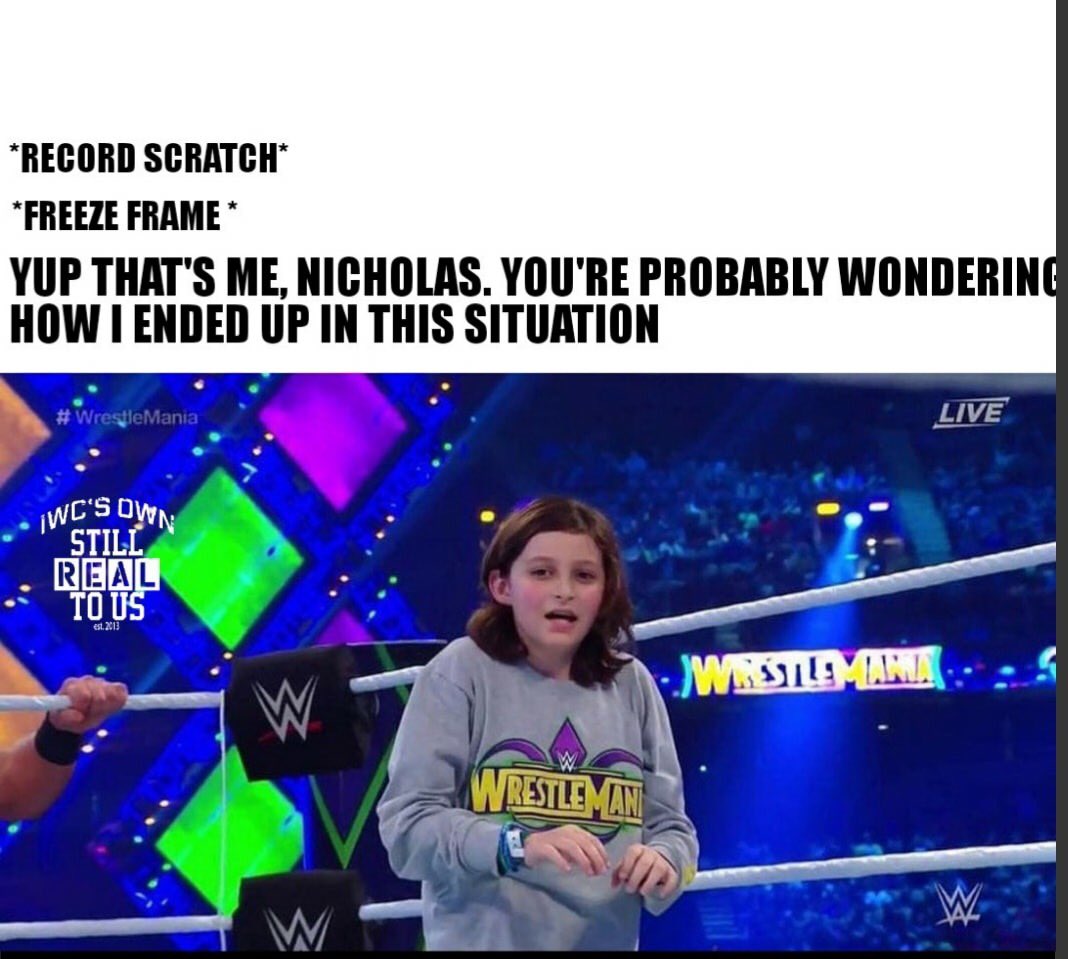 If you watched on the WWE Network one thing you didn't see was the beach balls being tossed around during the main event with Roman and Brock. People were cheering harder for the beach ball than they were for the match and booing just as hard when security would get a hold of the ball and pop it. The biggest pop of the night was when a second beach ball was busted out right after the first one was popped. I kinda feel bad for Brock and Roman, but WWE should have known better than to try and force Roman Reigns down our throats for the 4th Wrestlemania main event in a row. I don't hate Roman and he has improved a lot over his career, I just think there are more deserving people on the roster. It will be interesting to see what they do going forward after that negative reaction from the crowd.
I may have bought a championship belt while I was there...
After the show we of course hit Bourbon Street again and I felt like a champion the whole time walking around with my belt. I took a bunch of pictures of my friends wearing it while we were out and about but never thought to have anyone take a picture of me with it. Hence the Hotel bathroom selfie.
Speaking of selfies I figured I should share this sweet selfie I took after finally getting back to the hotel room at 5:00 AM. I look like a cop and a criminal at the same time. Shit was lit to say the least!

Shout out to my friend for providing the most ridiculous sunglasses!
Monday finally rolled around and I was toast. I attempted to go out and eat but I was just sick and exhausted at this point. I ordered the most amazing looking cheese fries and was so sad when I could barely force myself to eat them. I decided it would be best to part ways with my friends and get some rest at the hotel. After a bath, a power nap and some much needed hydration I was back in the game. I managed to meet back up with my friends and finish the night strong! I did take it easy though because I didn't want to be hung over for the flight.
For our last activities we went to some famous french cafe called Cafe du Monde where we ate beignets for breakfast. We then rode the trolley down to one of the cemeteries we saw the day we landed.
The trolley was cool but the cemetery was even cooler! Also I just realized I'm the only one without sunglasses but that's just because I'm a rebel who refuses to conform.
I almost tripped and ate shit during the filming of that cemetery video. You can tell where if you look for it.
After this it was straight to the airport. I was originally seated away from my friends on the plane, but luckily a very nice man offered to switch me seats so I could sit with my friends. Again, I'm scared of flying so this guy was doing me a huge favor. Once I got back home my cats were mad at me for being away for so long, but they warmed up after about an hour. I made sure to take an extra day off work to recover and I'm glad I did. I think I slept for about 10 hours. I'm pretty damn introverted so this whole experience was extremely draining on me. That said, it was the best birthday weekend I think I could possibly have had. 
It's gonna be hard to top this one!