Summer movie season is in full swing right now. You can still find at least three superhero movies in theaters as well as a big, dumb action movie staring The Rock and the latest Mission: Impossible film hits screens in a little over a week. But that doesn't mean there aren't smaller, more meaningful movies out there.
One is coming out this weekend called Blindspotting. I saw this film at Sundance and raved about it back then. Now you have a chance to see what I was talking about. Starring Hamilton's Daveed Diggs, Rafael Casal, Janina Gavankar and Jasmine Cephas Jones, this is one of those everything movies. It'll make you laugh, it'll make you cry, it'll make your butthole clench in pure tension. You know, everything.
Blindspotting is about a man in the final days of his parole who witnesses a policeman shooting an unarmed man. He's traumatized by the incident, but can't speak out for fear of revealing that violated his parole. At the same time his crazy best friend isn't helping matters by constantly acting as the well-intentioned, but bad influence in his life. 
It's a great film and I was super excited to sit down with the two leads, Daveed Diggs and Rafael Casal, alongside their director Carlos Lopez Estrada to talk about how this film about friendship was actually born out of friendship as well as just how great their supporting cast is and how they struck an authentic balance between real world issues and escapism entertainment.
It's a good chat. Enjoy!
Eric Vespe: Hey, guys. So, I saw the movie at Sundance and flipped for it. It spoke to me in a way I wasn't quite expecting and I think it's because of the way the humor of the film pushes the narrative. It's a movie with deadly serious content, but first and foremost it's almost a buddy comedy. I cared about the stakes of the movie because I cared about the friendship between you guys. Was that your way into the story?
Carlos Lopez Estrada: The movie is based on friendship. It sounds like a corny thing to say, but it's true. The movie's a result of the friendship between Rafa and Daveed for... how many years?
Daveed Diggs: Hella years.
Rafael Casal: (laughs) Hella years. We're coming up on two decades.
Carlos Lopez Estrada: Then there was a friendship between Daveed and myself. It started professionally and then...
Daveed Diggs: It became romantic.
Carlos Lopez Estrada: It wasn't romantic, it was just physical. (laughs) Then through Daveed I met Rafa. It's oversimplifying the process a little, but a lot of people came to (the movie) because of friendship. (Producers) Keith Calder and Jess Wu have been working with these guys for 9 years as well. A lot of the actors are either friends or friends of friends of people who these guys have worked with. It is a family endeavor and I'm glad to hear that energy translates when you watch the movie. Calling this movie a passion project is a serious understatement. They could probably tell you a little more about the real genesis.
Daveed Diggs: (to Rafa) You said something great a little while ago about humor and male relationships... about how men interact with each other.
Rafael Casal: Just say it's my quote, but Daveed will say it.
Daveed Diggs: Rafa says that one of the ways that men stay friends with each other is by making jokes. That's what we do. We're always sort of covering up...
Rafael Casal: It's the barrel roll out of tension. We have two main emotions that men are socially accepted to express. It's anger and humor. Those are the two conditioned ways to fluctuate. 
Really the movie runs the way heterosexual male friendship tends to toggle. It's devoid of too much talk about feelings and it's very much humor-humor-humor until it boils up and because of that I think the characteristic of the film I love the most is just how much they try to keep bringing humor into it until it's completely impossible. Even in the end it's Miles' final barrel roll that gets us to a place of hope between the two of them, by trying to get them to laugh. That's the survival nature of friendship.
Daveed Diggs: It sets up this thing where you can't trust humor any more. It's not enough. But then the final statement is pretty much if we acknowledge that we both changed we can still make jokes.
Eric Vespe: I relate to that a lot. It's also important for audiences to know, too. You can tell people Blindspotting has great messages about gentrification and police brutality and the unfairness of the parole system and their eyes might glaze over. It might sound like homework. But if you can tell them it's a funny movie and you're going to connect with the characters that changes the conversation that gets people to give it a shot.
Daveed Diggs: The buddy comedy in a world that won't let it be one... the reason that we say that sentence so much is because that sentence, and when you see the movie you'll get this, is to me the definition of what "Blindspotting" is. You say "a buddy comedy in a world that won't let it be one" and all people hear is the "buddy comedy" part and the second half is lost. You don't entirely know what it means, so your eyes float to "buddy comedy."
The first press we ever got was "Rafael Casal and Daveed Diggs are doing a buddy comedy set in Oakland." Yeah, we gave you the full sentence, but that's where your eye went.
The in is that it's a buddy comedy, but it doesn't ignore the world that it exists in and it's that world that won't let it be one. The inherent seriousness of the time we're in gives you the buddy comedy, but puts it in the world that we're in.
The world just unfolds as it is, which is why I never throw out the gun control and violence themes or even really police shootings. We're just now starting to add that because we're being told to. (laughs) We're being told it's helpful.
Eric Vespe: Speaking of, your character witnesses a police shooting and the guy playing the officer is Ethan Embry. He's so damn good in this thing. He's a deeply flawed character, but not a one-dimensional bad guy. I felt I was empathizing with him and I never in a million years would have thought I'd do that with a person in his position.
Rafael Casal: The amazing thing about empathy is all you actually have to do is make them human. You'll forgive so many flaws in a character's personality or political position as long as they feel full and human.
Daveed Diggs: And I don't think we're even asking for forgiveness. It's just that you can sort of understand it. What we don't see is him over there and laughing and high-fiving two weeks after he shot a kid. His life probably sucks. You don't have to let him off the hook for being poorly trained and for shooting somebody because he was scared of a person running away from him. You don't get off the hook for that. You don't get brownie points for that, but also your life is probably pretty shitty.
From our perspective (Ethan's character) couldn't reconcile with his wife after that. There's no turning back from that. The great thing about Ethan as an actor is that he made that whole movie in his head. He had the whole story of that officer in his head.
Rafael Casal: The other side of this film.
Daveed Diggs: And he asked us a ton of questions about it. We didn't write that into the script, so he came to us and asked us questions. Where is this guy from? Does he have other infractions?
Rafael Casal: Do you think he came from the military? He gave it that much thought. I don't think at any point Ethan was trying to create a character that he thought was morally right. He just wanted a three-dimensional human being who is also a product of his surroundings and biases.
Daveed Diggs: I don't think Ethan likes him very much!
Rafael Casal: But I think he got him, which is nearly impossible when you read this script and invest in the main characters. To be able to find a sincere way into that officer...
Daveed Diggs: It's a thing we asked of everybody involved in this film. So much of the focus is necessarily on us, but it was really important to have all these characters who were fully realized and felt like they had their own lives. So everybody had to do that work, without necessarily the lines to support it. Jasmine (Cephas Jones) came to the Bay a little bit early and just hung out. She's soooo New York.
Rafael Casal: She's so Brooklyn! She was there for two days. She came to the Warriors parade...
Daveed Diggs: It happened to be when the Warriors won the title.
Rafael Casal: She hung out with two of the women who here character is based on and within two hours had the speech pattern down and was just walking around with it. They did her hair and I just kept forgetting that was Jasmine. It was magic.
Eric Vespe: Janina (Gavankar) is great, too. One of my favorite scenes in the movie is when she's doing your hair. It's the most romantic not-romantic scene ever. It's romantic in that these are two people who get each other and care for each other, but they're not at a place where they can become an item again.
Daveed Diggs: We auditioned here by seeing if she could braid hair. She can't, so that's an incredible acting job. You'll see she focuses on the back of the head. (laughs)
Carlos Lopez Estrada: I think Janina is one of those casting stories that I'll always remember because she came in to read towards the later end of the process. We had seen a lot of actors, some very, very talented people came in to read, and we were having a hard time making a decision. It was an important role. Then she walked into the room and did a handful of things that no one had done and I think understood the depth of the character in ways that we hadn't even fully grasped.

We had a conversation with her about the script and about how she related to it being an Indian woman and understanding how minorities feel. It's just one of those things I'll never forget. She walked out of the room and we all just looked at each other and said, "Wow. How could we not work with this woman?"
Daveed Diggs: She taught us things about Val in the audition.
Rafael Casal: She totally changed the character.
Daveed Diggs: There's that moment at the end of that scene after their hug she just said "Okay, bye" and walked out. No one else had played it that way. There was always this longing pathos thing, but she did it that way and I was like "... okay." I was reading with her.
Rafael Casal: She just cut the scene off!
Daveed Diggs: All of us were like "That's how that scene was supposed to go! Shit." It gave her so much more agency than I think even we were giving to that character. The best of our abilities we were still two dudes trying to write women and she came in and was like "This is how I would do it in this moment."
Carlos Lopez Estrada: She's not like Val, but in many ways she is. She'd come up to all three of us and we would give her direction and she'd say "Actually, I'm not sure if I agree with that" and we'd have these really interesting conversations.
Rafael Casal: She really took Val from us.
Daveed Diggs: Thank goodness.
Rafael Casal: She'd be like "Val's this person. I know her better than you, so we're going to do it this way." We were like "Okay!"
Eric Vespe: It's a tough character because that archetype could come across as naggy.
Daveed Diggs: It could come across as naggy, I know! It's tricky. There was an edit where we failed her, really. There was an early edit where she came off that way and it wasn't because of her performance, it was because we were choosing the wrong shots. For time we cut a bunch of things out, so we had to go back put more of her in. She gives this wonderfully nuanced performance with so much empathy in it, but for time we cut a lot of those moments and we were watching it going "We have to put that back."
Rafael Casal: There's the balance of sweet and stern and she gave us so many different takes of each one in each scene. Compiling that, you have to have just the right amount of Val's sweetness and kindness that you understand why her and Collin were together, but also just enough coldness that you get that this isn't a happily ever after thing.
Eric Vespe: Absolutely. I love the movie and I think a lot of people are going to love the movie as well. Thanks for taking the time to talk to me.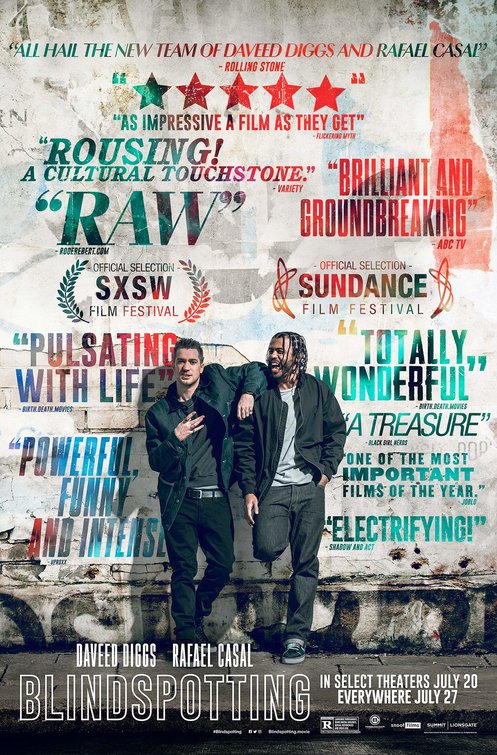 The movie's out in select theaters this weekend and goes wide on July 27th. If you like good things, go watch it!