Background
??
?
Name: Erza Scarlet
Height: 5'7
Weight: 135.3 lbs
likes: weapons, armor, protecting her friends and those she loves and loves theater and dramatic arts
hates: evil, aroggance, and those who dont answer her questions quickly enough
                                                                        Bio
in the year X776 Erza was slave and was force to construct the tower of heaven by a cult of dark mages who want to revive Zeref who is considered to be one of the most evil dark mages who masters the Black arts and summons demons which still cause havoc to their modern time. After being tortured for accusation of leading an escape attempt losing her right eye in the process she was soon rescued  by a fellow slave named Jellal Fernades who is a friend of hers till he was captured and was soon brainwashed and continued working on the tower after Erza led a revolt and succesfully defeating the dark mages and rescuing Jellal but however it was too late since he was brainwashed some what black mailing her forcing her to leave the tower.
Years later she soon joined a guild called Fairy Tail taking her in as their own and a new guild member. For years Erza soon became one of the powerful members of Fairy tail becoming a rank S (powerful wizards who can take more challenging tasks). Dispite her being very strict person, often criticizing the bad behavior and habits of the other guild members, causing most of them to apologize, fearing that they might invoke her wrath. This, coupled with her own tragic childhood, caused many of her guildmates to avoid her due to her social awkwardness.
                                                                            powers and abilities
Requip: Requip is Erza's signature form of Magic, over which she possesses great mastery. It is a type of Magic that allows her to swap weapons, armor and clothes at will. Her particular form of Requip is called The Knight. This Magic allows the user to store weapons and armors in pocket dimensions and summon them during battle. This gives the user a high level of offense, defense, flexibility and variety in combat, regarding the type of the armor and/or weapon they Requip. This type of Requip also gives the user the ability to use, and gain resistance to, natural elements through the use of certain armors like fire, water, lightning, etc. She is also noted for her ability to Requip extremely fast and is the only sword Mage known to be capable of Requipping weapons and armor while fighting, she is said to have over 100 different armors, something which made her and her immense strength well known throughout her place of residence of Magnolia Town and throughout the entire Kingdom of Fiore.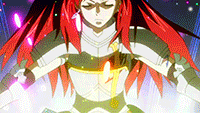 Sword Magic:  In addition to her signature magic  Erza is also an extremely talented user of Sword Magic. As the name implies, this is a type of Magic which revolves around the use of swords. Through the use of this Magic, Erza is capable of using her swords to perform different Magical attacks. This is usually done in combination with specific armors of hers, which can make her deadlier in close melee combat or, when combined with her. It is also shown in the anime that she can also combine different armors with other swords from other armors to either block or attack using deadlier force and mixing different elements together. Like telekinesis which allows her to target opponents which are out of her physical range, however this was accidential when she was a child at the tower of heaven she used this Magic to levitate discarded weapons from the ground and launch them at her enemies, something which she did inadvertently, due to the shock caused by Rob's death (who was an old Fairy Tail mage enslaved to construct the tower of heaven).
Master Swordsmanship Specialist:  Erza possesses great mastery in swordsmanship and her skills in swordsmanship are of the highest caliber. Her offensive capabilities mainly come from her swordplay, which enables her to effectively utilize the weapons that her requip provides, which includes swords, short swords, axes, lances and staffs (among others). Erza has shown great skill in utilizing the reverse-grip of swordsmanship as well as the normal grip. She is even capable of employing her swords effectively using her feet, by wielding their hilts between her hallux and second toe.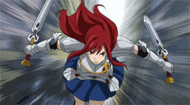 Expert in Hand to Hand combat:  Despite favoring the use of her various weapons, Erza has proven herself to be a skilled hand-to-hand combatant she mixed this with her swordmanship while in a middle of a battle. She can knockout a person with a single kick, She can throw powerful punches, Perform takedowns and throws even if her weapons are destroyed.

Enhanced Strength: In stark contrast with her slim and womanly figure, Erza possesses a very large amount of physical strength, having been repeatedly shown capable of lifting and dragging around objects many times her own size and weight most prominently due to her habit of carrying around vast amounts of luggage. In addition, her sword slashes possess so much force behind them that they are able to slice through metal using only the air pressure from the swings.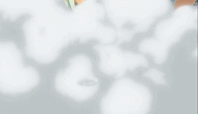 Immense Durability: Erza has also proven herself to have a vast amount of physical durability. For example despite being heavily injured and bruised during battle, she left the fight without showing any signs of fatigue, something which garnered her praise from hundreds of people including quite a few powerful Mages.

Immense Reflexes:Erza possesses extremely sharp reflexes, and a high degree agility and speed.

Immense Magic Power: As an S-Class Mage of the Fairy Tail Guild, Erza possesses a tremendous amount of Magic Power. Throughout many difficult battles Erza was able to Requip powerful armors in rapid succession without showing any signs of fatigue.  She was also able to Requip her Heaven's wheel armor and over 200 swords after Requipping with a diffrent type of armor with out running out of magic power.
                                                                                     Weapons and armor
  (quick note this woman has like over 100s of armor but im only gonna put only a few that seems suitable for this battle.)
Swords ,axes staffs, etc.
Heaven's Wheel Armor: Plated armor covers her chest, with a large metal flower over it, and she wears a large billowing skirt that has metal plating in the upper area. Her stomach and neck are uncovered, and she has large metal wings that appear to be made of individual blades, as well as a wing-like headpiece. This armor allows her to use the ability to fly, and summon more than 200 swords.
Heart Kreuz Armor: This armor is a detailed, sporting breastplate composed of a single piece of metal, decorated with curved lines and a deformed version of Heart Kreuz's mark. The right arm of the mark's cross extends to armor's right side, with the mark of Fairy Tail added under the cross itself, which is now lacking the brand's name. The shoulderguards are also larger and more detailed. The waistguard is now composed of only two elaborated plates hanging from a simple belt over a smaller thinner pair of plates circling her waist. The most visible additions of the new armor are the plated gauntlets extending up to the wearer's elbows, which are covered by elbow guards adorned by protruding metal ornaments reminiscent of feathers, and a prominent armored collar circling their and leaving the front side open. This is made up by protrusions similar to the ones on the wearer's elbows. There is a variation of this particular armor which involves line-less shoulderguards and a lack of metal feather-like protrusions on the collar. Basicly your standard armor that comes with only a standard sword.
Lightning Empress Armor: This armor is golden and light bluish in color. The breastplate is decorated by golden trimmings, and has thin plates going up to surround Erza's neck. When using this armor, Erza's head gets adorned by a band with two ribbons on it, and her hair gets styled in a long braid. Also, the armor's weapon is a long spear, with a very large blade and a decorated circle resembling a shield attaching it to the shaft, which is adorned by a large ribbon. This allows Erza to use Lightning attacks at her foes also protects her from any certain lightning attacks.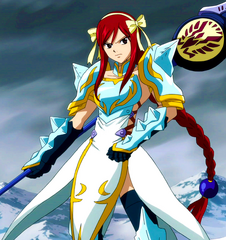 Sea Empress Armor: This armor is green in color with bluish parts. The breastplate, which barely covers Erza's breast, leaving her belly and her back visible, somehow resembles seaweed, and has some thin chains hanging from it over Erza's exposed parts, with a pair siding her breasts and another the belly; a fifth chain is visible around her neck, which is guarded by the large collar. The armor is completed by a headgear, with a large metal part covering her forehead, bearing a whirl-shaped wave on it, and large fin-shaped protrusions siding her head. The armor comes equipped with a long sword which seems to be made of crystal, with many small crystals jutting out in every direction from the hand-guard. This armor grants Erza tocharges the blade of the sword with water and then attacks the target with water, and release powerful whirlpools against her opponent only in this type of armor. It is able to withstand any water attacks easily.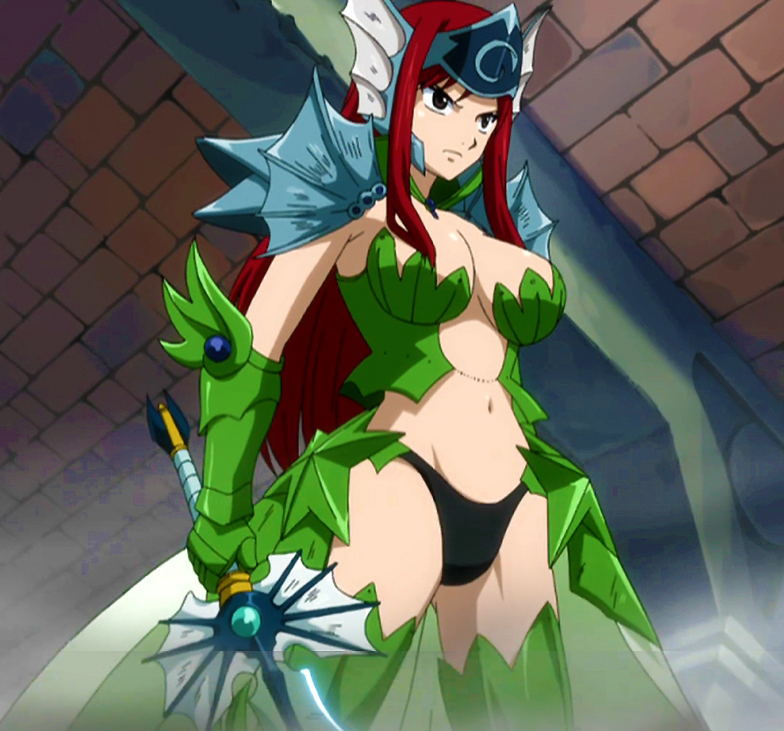 Flame Empress Armor: This armor is dark red predominantly, but also sports orange and black parts, with the first ones being shaped like flames and the second resembling Dragon's limbs. It's basically made up of three different parts: the revealing breastplate with Dragon like wings attached to it, the orange gauntlets and the Dragon claw shaped greaves. Erza's hair is tied into a pair of high, long pigtails. The flame empress armor allows erza to shoot fire and collects flames around the sword she carries and attacks her enemy, and this of course makes her resist fire attacks from fire enemies.
                                                                                          Feats
Erza was able to fight and defeat 100 powerful monsters without showing any signs of fatigue
Battled her doppelganger to a draw
1 of 4 Most powerful wizards in Fairy Tail
                                                                   Weaknesses
she is less mobile (but im sure she can fix that just by requiping)
cant seem to hold her liquor down
                                                                              Challengers
Heh heh now the fun part now these opponets to me seem suitible to attack Erza only in my opinion but do feel free to leave a suggestion in the comment section! I would love to hear your ideas!
Now to be honest i honestly think Siegfried can put up a decent fight against Erza he is a good fighter and manage kick Nightmares ass before so maybe with Soul Calibur at his side maybe this could be a challenge for Erza.
Now I know what you're thinking Utterlyrandomguy who on earth is this sexy woman? Well my friend met the most powerful beautiful ass kicking woman in the 90's television era. Xena is a beast when comes to fighting dont be fooled by her beauty she is a beast. She beaten gods and goddesses and even beaten god damn Hercules in a fair fight. Trust me she seems suitable to fight someone like Erza Scarlet.
                                                                           Conclusion
             And So thats that people again sorry i have been away for so long but hey at least i got this done. Anyway i like to hear what do you think who could be a decent fighter to go up against erza you know who i choose so i dont have to tell you lol well its been a long day for me so leave a comment on what you think and as i said before leave me another suggestion against Erza ill get back to you soon! Thanks for reading! Utterlyrandomguy out!