Hello lovelies! Happiest #merchmarch #RTCommunityDay to you all! A massive shoutout to all of you who have been taking part in the #merchmarch Challenge, you all look amazing and it's been lovely to meet new community members and see your awesome RT style! I'm delighted to see so many both here and on Twitter taking part, keep it up we're halfway there!

But now, to the latest RT Box! This one was Mardi Gras themed! Here's an inventory list of what we got in this month's box:

- Mardi Gras themed note from Jack, complete with a fancy poem.
- Mardi Gras Masquerade themed Achievement Hunter Shirt.
- Funhaus Goblet cup.
- Game Attack shot glass necklace.
- Rooster Teeth hot/cold heart shaped pack.
- Double Gold Star wristbands.
- #1 Rooster Teeth Gold Card (1 in 5 Signed by Matt Hullum).
- Orcs Must Die Unchained Game Code.

Now Mardi Gras isn't a festival celebrated too much in the UK so I had to research a bit into it. Mardi Gras was on Tuesday, the 28th of February, so by the time I got the RT Box it was already too late. However, with the shirt being a bit wacky and green, I thought that it would be perfect for any St Patrick's Day parties coming up! St Patrick's Day is this Friday the 17th March so here's a potential outfit style to rock while you're knocking back the Guinness!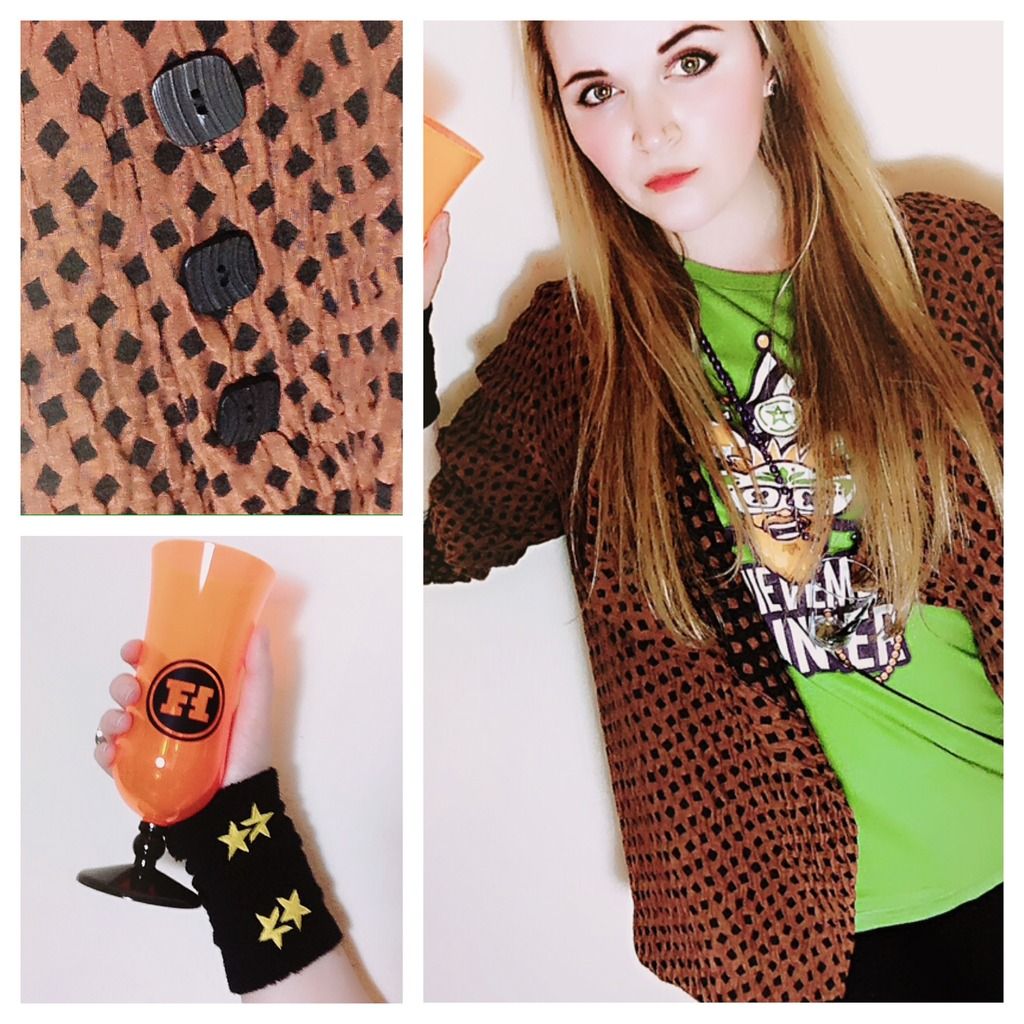 Like I said last RT Community Day, I like to experiment with colour, and this month is no different. Looking at the shirt, it combines bright green with a rusty orange, as well as splashes of black and white. So I wanted to continue and expand upon this rust and green theme, adding in some texture and pattern for some additional style points as well as using the black and white as the foundations to this look. Rust and green is usually one of my favourite combinations for autumn, however to give it a spring twist, use bright or pastel versions of Autumn's more muted tones. I used a loose waterfall style coverup to keep this look comfy and relaxed, though do feel free to smarten up the look with a more structured, perhaps blazer style cover up. And if you're off to a party, remember: dress to excess!

I can't wait to see the green-themed looks popping up on Friday or thereabouts. Remember, if you want to take part in the #merchmarch Challenge, take a picture with you in your RT Merch and tag me here on the RT Site @ailsarocks or tag either me or RT is Fashionable over on Twitter. Don't forget to use the #merchmarch hashtag too!

As always my dears: Stay Fashionable